PA06B
Single Point Aluminum Load Cell
---
FEATURES
PA06B is specially desiged to emphsize the room temperature accuracy while keeping all the required parameters for OIML approval.
Capacity 3-50kg
High resolution up to 100,000 divisions in short term at room temperature
Single point 350x350 mm platform
OIML Approved up to C6 class
IP66 protection
Total error <0.0040% of Rated Output available
OUTLINE DIMENSIONS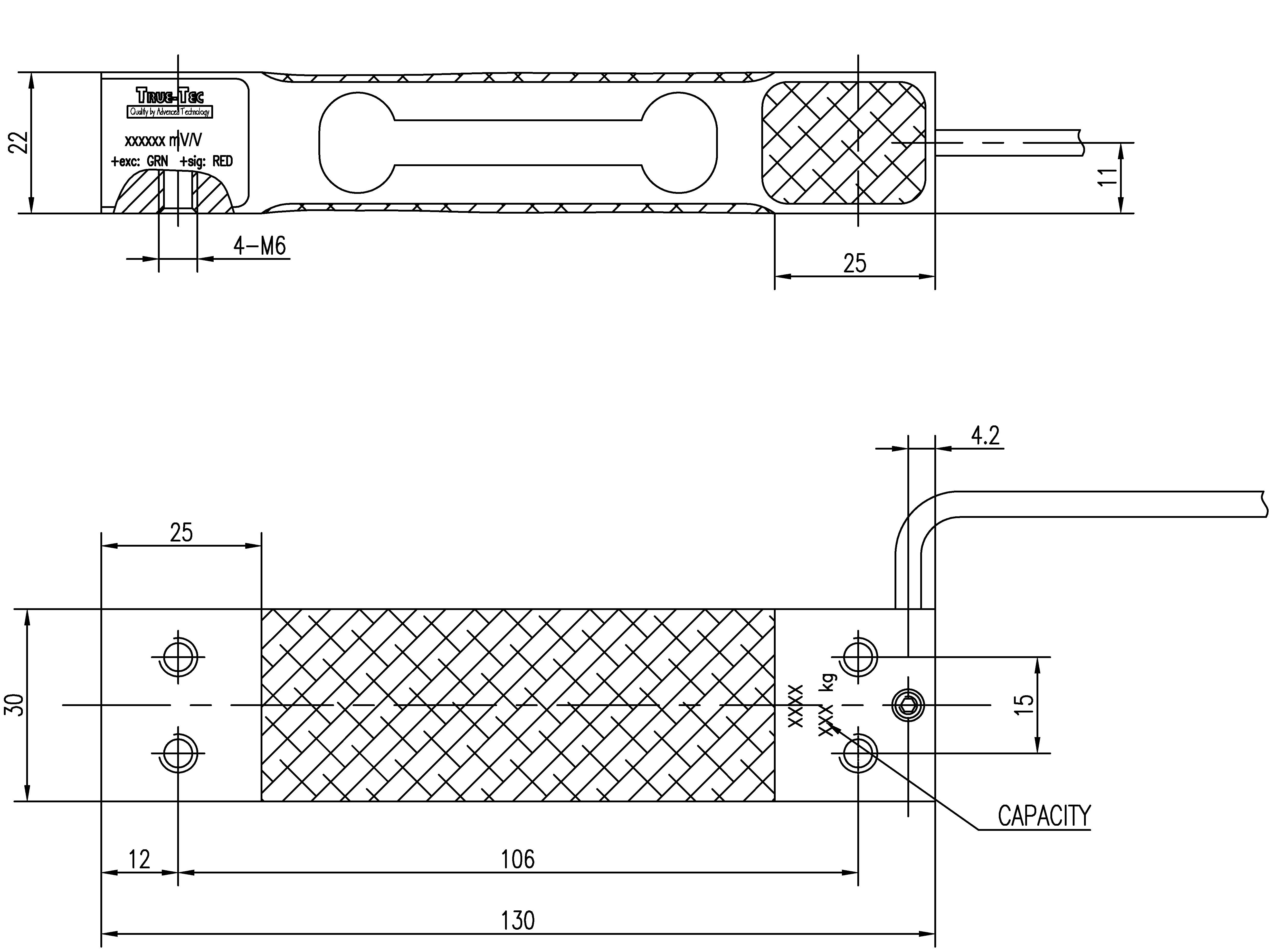 MOUNTING
M6 8.8 class socket head screw, tightening torque 7NM
PARAMETER
UNIT
VALUE
Rated Capacity (E max)
g
3*, 5, 7, 10, 15, 20, 30, 35, 40, 50
True-Tec Grade
R
S
U
V
Sensitivity
mV/V
2.00
Sensitivity tolerance
± mV/V
0.20
Zero balance
± mV/V
0.10
Maximum Number of Intervals
3000
3000
5000
6000
Y=Emax/vmin
Typical
6000
10000
10000
12000
Z=Emax/(2*DR)
Typical
3000
4000
5000
6000
Creep (From stable to 2min.)
±%
0.0083
0.0050
0.0033
0.0028
Linearity
±%
0.0133
0.0083
0.0067
0.0050
Repeatability
±%
0.0067
0.0043
0.0030
0.0025
Hysteresis
±%
0.0067
0.0043
0.0030
0.0025
Eccentric Loading error
±%/cm
0.0042
0.0042
0.0036
0.0024
Norminal Temperature range
°C
+5 to +35
Service Temperature range
°C
-30 to +70
Limit Load
% of R.C.
200
Break Load
% of R.C.
300
Recommed Working Humidity
% RH
30 to 75
Norminal Excitation
V
5
Max Excitation
V
15
Imput Impedance
Ohm
406 ± 15
Output Impedance
Ohm
350 ± 3
Insulation
MOhm
> 2000
Cable Length
m
0.40
Cable Type
4x28AWG Aluminum-Mylar foil shielded Black PVC jacket cable
Color code
+exc-green, +sig-red, -exc-black,-sig-white
Construction
Anodized Aluminum Alloy
Compensation circuit type
Balanced Bridge
Protection class to IEC529
IP 66
Note:*3kg capacity is approved to C3 only ** 3kg load cell is not anodized.
Model PA06B is a low capacity, very high precision single point load cell.
The PA06B offers up to 100,000-divisions short term precision at room temperature. This load cell is suitable for applications including high precision counting scales, high precision balances, and low level force measurement.
The special designed sensor structure assures its high performance in back-to-zero, linearity, repeatability, and hysteresis.