PA06MG
Single Point Aluminum Load Cell
---
FEATURES
Capacity 5-35kg
Anodized Aluminum Construction
Single point 300x300 mm platform
Electronic Circuit sealed with special glue for excellent humidity protection
Room temperature accuracy up to 15,000 divisions
OUTLINE DIMENSIONS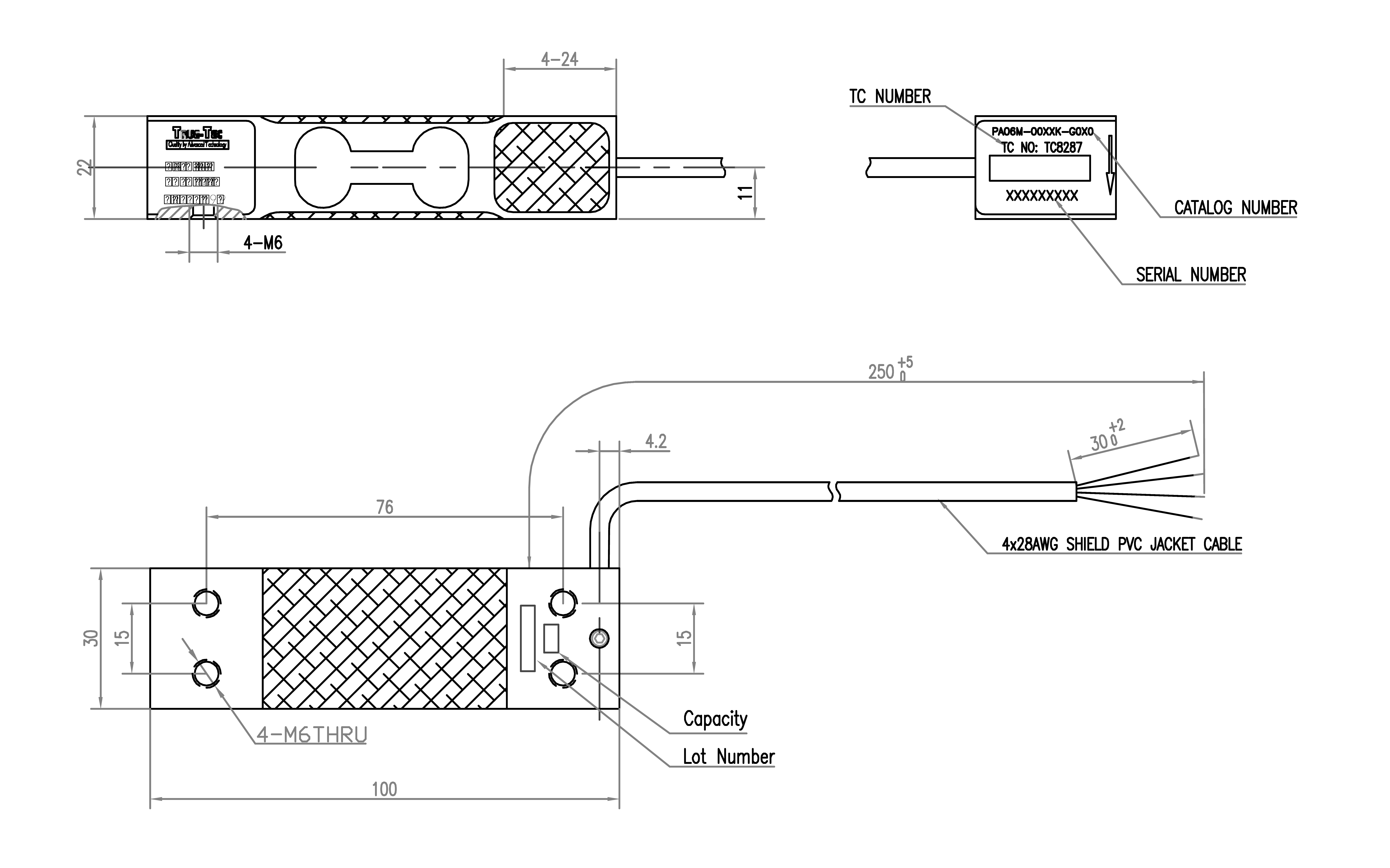 MOUNTING
M6 8.8 class socket head screw, tightening torque 7NM
PARAMETER
UNIT
VALUE
True-Tec Grade
N
P
R
Rated Capacity (E max)
kg
5, 10, 20, 35
Sensitivity
mV/V
2.00
Sensitivity tolerance
± mV/V
0.20
Zero balance
± mV/V
0.10
30 min. Creep
% of R.C.
0.025
0.017
0.017
Temperature effect on Zero
±% of R.C./10°C
0.060
0.040
0.014
Temperature effect on Span
±% of R.C./10°C
0.014
0.010
0.010
Eccentric Loading error
±%/cm
0.0057
Maximum platform size
cm
30x30
Nominal temperature range
°C
-10 to +40
Service temperature range
°C
-30 to +70
Limit load
% of R.C.
150
Break load
% of R.C.
300
Nominal excitation
V
10
Max. excitation
V
15
Input impedance
Ohm
406 ± 15
Output impedance
Ohm
350 ± 3
Insulation resistance
MOhm
> 2000
Compensation circuit type
Balanced Bridge
Cable length
m
0.25
Cable type
4x28 AWG, Aluminum Mylar Foil Shielded, Black PVC Jacket
Color code
+exc-green, +sig-red, -exc-black, -sig- white
Construction
Anodized Aluminum Alloy
Humidity Protection
Dip in water of 1M deep>100h; and Last in 40°C95%RH/20°C50%RH 12h cycle>20 cycles.
Model PA06MG is a load cell specially designed for waterproof applications. With special sealing treatment of the electronic circuits, this load cell can last very long in the high humidity environment at reasonable precision.
Anodized aluminum alloy structure of PA06MG together with its excellence humidity protection, makes it ideal for scales in those applications which require low cost and very high water and humidity resistance such as food processing industry and seafood markets.