BS23
Single Ended Shear Beam Load Cell
---
Features
Capacity 1000Lb-10kLb
Low Profile for Industrial Platforms
Nickel Plated Alloy Steel Construction
6 wire (sense) Circuit
PU Cable available to order
IP67 protection
Various Options available
Vishay 3410/3420 compatible
Outline Dimensions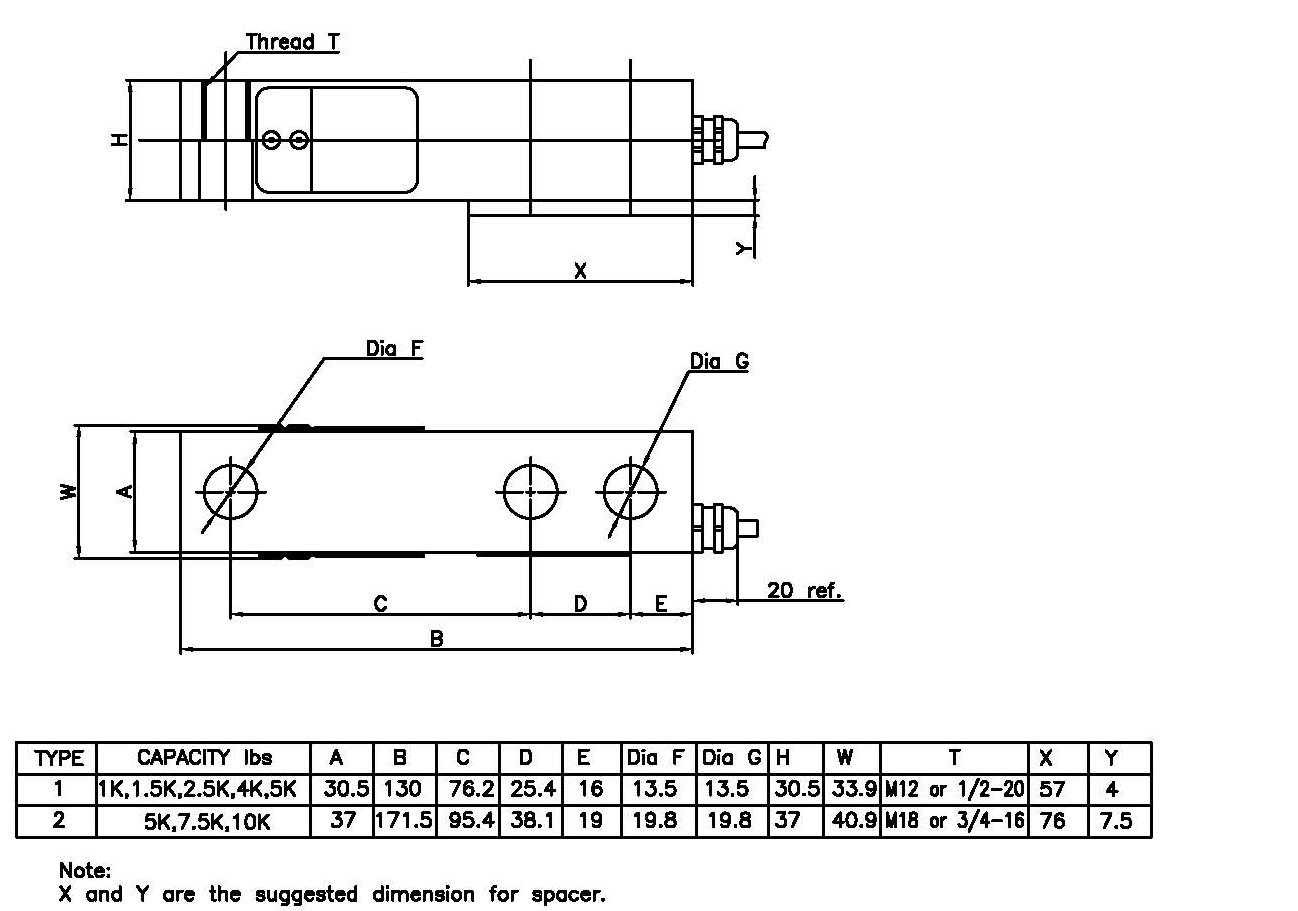 Mounting
8.8 screws with socket head, tightening torque 136NM for capacities up to 4000Lb, and 205NM for capacities above 4000Lb
PARAMETER
UNIT
VALUE
True-Tec Grade
N
P
R
Rated capacity (E max)
lbs
1000, 1500, 2500, 4000, 5000, 7500, 10000
Sensitivity
mV/V
3.00
Sensitivity tolerance
± mV/V
0.0030
Zero balance
± mV/V
0.0500
Maximum Number of Intervals
2000
2500
3000
Y=Emax/vmin
Typical
3600
4500
6000
Z=Emax/(2*DR)
Typical
2000
2500
3000
Nominal temperature range
°C
-10 to +40
Service temperature range
°C
-30 to +80
Limit load
% of R.C.
150
Break load
% of R.C.
200
Nominal excitation
V
10
Max. excitation
V
15
Input impedance
Ohm
385 ± 15
Output impedance
Ohm
350 ± 3
Insulation resistance
MOhm
> 2000
Compensation circuit type
Balanced Bridge
Cable length
m
3.0
Cable type
6x26 AWG, Black PVC Jacket
Color code
+exc -green, +sen-blue, +sig-red, -exc-black, -sen-brown, -sig- white
Construction
Nickel Plated Alloy Steel
Protection class to IEC529
IP67
Note: Optional cable type and cable length avilable to order.
Model BS23 is a low profile single ended shear beam load cell designed for high accuracy platform scales, pallet scales and process weighing applications. It has high immunity to shock or side loading. Nickel plating and full environmental sealing assure long term reliability.
The two additional sense wires feed back the voltage reaching the load cell. Complete compensation of changes in lead resistance due to temperature change and/or cable extension, is achieved by feeding this voltage into the appropriate electronics.
Also Available from True-Tec: The Model BS23 load cell can be supplied with self leveling rubber feet for use in low profile platforms. Cellmates and Tank mounts are also available.