}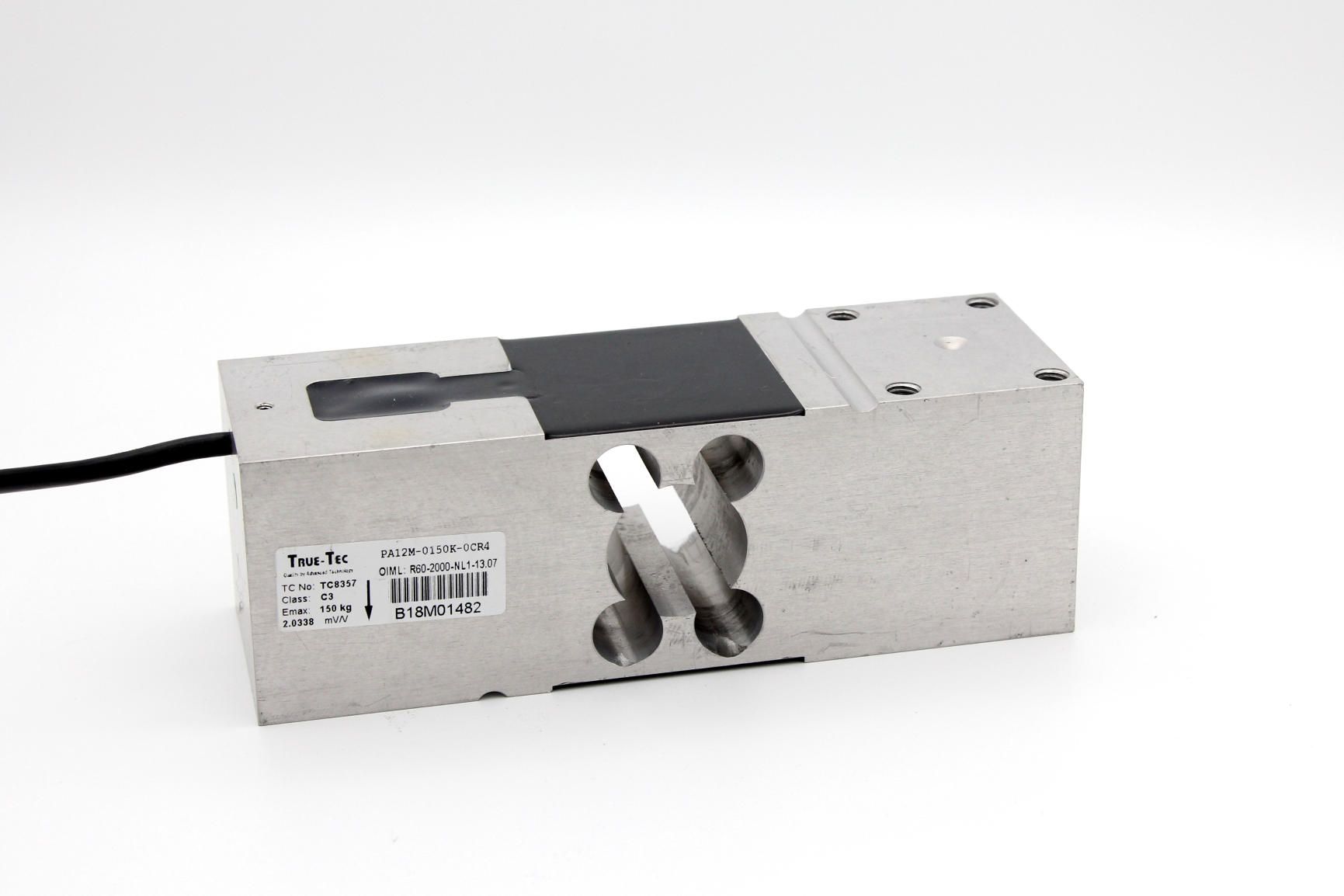 PA12
Single Point Aluminum Load Cell
---
FEATURES
Capacity 50kg to 635kg
Aluminum Construction
Single point 600x600 mm platform
OIML R60/2017 approved to C8 class maximum
Available with Metric threads
Excellent Eccentric Loading performance
IP66 protection
Vishay 1260 Compatible
OUTLINE DIMENSIONS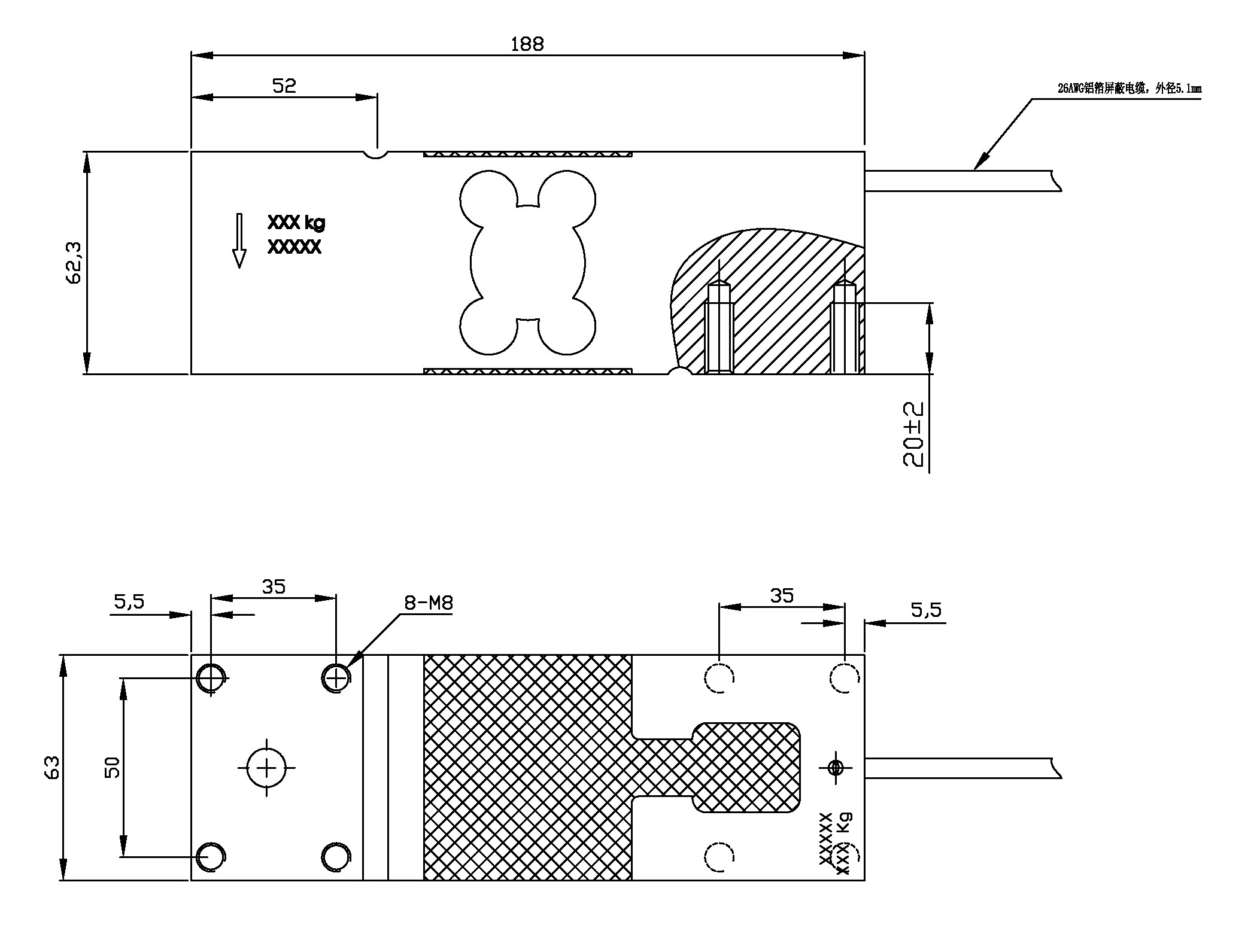 MOUNTING
M8-8.8 screws with socket head, tightening torque 20Nm for capacities up to 250kg, and 25Nm for capacities above 250kg
PARAMETER
UNIT
VALUE
True-Tec Grade
N
P
R
T
V
OIML Classification
C2
C2.5
C3
C4
C6
Rated Capacity (E max)
kg
50, 100, 150, 200, 250, 300, 500, 635
Sensitivity
mV/V
2.00
Sensitivity tolerance
± mV/V
0.20
Zero balance
± mV/V
0.10
Max. Number of Intervals
2000
2500
3000
4000
6000
Relatred vmin(Y=Emax/vmin)
Typical
3000
5400
10000
10000
12000
Relative DR (Z=Emax/(2*DR))
Typical
2000
2500
3000
4000
6000
Temperature effect on output
±%/°C
0.0140
0.0100
0.0100
0.0083
0.0083
Eccentric loading error
±%/cm
0.0057
0.0042
0.0042
0.0036
0.0024
maximum Platform Size
cm
60x60
Norminal Temperature range
°C
-10 to +40
Service Temperature range
°C
-30 to +70
Limit Load
% of R.C.
150
Break Load
% of R.C.
300
Norminal Excitation
V
10
Max Excitation
V
15
Imput Impedance
Ohm
406 ± 15
Output Impedance
Ohm
350 ± 3
Insulation
MOhm
> 2000
Compensation circuit type
Balanced Bridge
Cable Length
m
2.0
Cable Type
4x26AWG Aluminum-Mylar foil shielded Black PVC jacket cable
Color code
+exc-green, +sig-red, -exc-black,-sig-white
Construction
Anodized Aluminum Alloy
Protection class to IEC529
IP 66
Note: *-6 wire 26AWG PVC cable available to order ** -Special combination of nmax, Y and Z value available to order
Model PA12 is a high performance, high capacity single point load cell designed for direct mounting of large weigh platforms.
The rugged construction offers high immunity to side forces making it suitable for a wide range of weighing applications, including bench scales, check weighing and process weighing.
A special humidity resistant protective coating assures long term stability over the entire compensated temperature range.
The PA12 provides scale manufacturers with a high accuracy low cost sensor to meet today's needs.